Chrissie John (ḥakaƛ) clearly remembers her mother using bits and pieces of their first language growing up.
Nuučaanuɫ words for "come here" – chukwaa – and various berries and animals found around their Ehattesaht First Nation (ʔiiḥatisatḥ) home in northern Vancouver Island were a regular part of John's childhood.
But learning her language in full was not.
John's mother, like tens of thousands of Indigenous children, was forced into residential school as a young child and told to only speak English.
Records show children were regularly punished physically or verbally if they used their mother tongues. Those who returned home from residential schools often did so without that part of themselves and the intergenerational impacts of that loss have been sweeping.
For the last five years, John, 27, has been working to reclaim what was stolen from her mother.
"Language loss is a huge part of colonialism. Learning [it] gives me that identity back."
In 2022, she was one of 27,458 people in B.C. regularly using or learning a First Nations language.
The figure marks a continued decline in the number of fluent speakers, but a hopeful jump in those willing to learn. Since the First Peoples' Cultural Council started tracking things in 2010, the number of fluent speakers dropped from 5,609 to 3,370, while the number of semi-fluent speakers and learners rose from 21,171 to 24,088.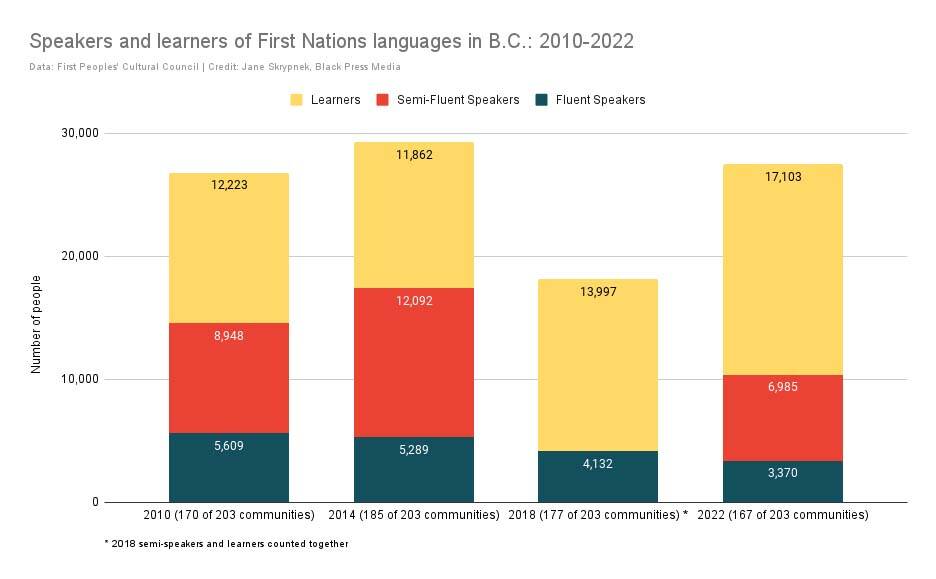 "It's so uplifting, it's rewarding," John says.
And it's not just learning new parts of her language, it's connecting with the culture that comes with it. John says the two are intrinsically tied. There are nuučaanuɫ words and phrases that speak to who the Ehattesaht First Nation are that don't exist in English.
Haahuupa, for instance, means to teach someone gently and with love, rather than with shame. John says it attests to a culture starkly different than the one that attempted to assimilate her people.
It's this level of linguistic meaning she hopes to pass on to her two young children by raising them with the nuučaanuɫ language.
"It's a really efficient way to ensure language transmission."
There's been a big push for language learning in schools in recent years, aided by historic funding at the provincial and federal level, and it's starting to make a difference. In 2018, there were 11,051 people under age 25 who knew or were learning a First Nations language, according to the First Peoples' Cultural Council's report. In 2022, despite the challenges of COVID-19, floods and fires, that number had rose to 13,053.
In both years, the numbers only reflect data from the First Nations communities that contributed to the reports, and not all 204 that exist in B.C.
The First Peoples' Cultural Council says one of the greatest accomplishments between 2018 and 2022 has been increasing the number of early childhood immersion programs from 10 to 32. The programs give kids around 18 hours of instruction a week, at an age when it's easiest for them to absorb a new language.
The cultural council says taking action on language revitalization now is imperative to keep them alive. The greatest number of fluent speakers (62 per cent) are among people aged 65 or older, and they won't be around forever to pass on their knowledge.
John says she sees it as her responsibility to learn what she can and restart the process of intergenerational transmission.
"It's not just powerful for me, it's for my entire nation."
---
@janeskrypnek
jane.skrypnek@blackpress.ca
Like us on Facebook and follow us on Twitter.