A Vancouver MLA wants to crack down on violence against drag artists and performers, following a number of anti-drag protests across B.C., as well as the anti-drag bills popping up across the border.
Vancouver–West End MLA Spencer Chandra Herbert tabled a motion in the Legislature Monday (April 3) "because we've seen too much of this, we've seen people targeted in their communities across B.C. and indeed across North America," he said.
"Whether it was in Nelson, Coquitlam – I think this weekend in Kelowna – North Vancouver, Duncan, Vancouver, in my own community in the West End. Really, the list is too long to go on."
It was just last month that the Nelson Public Library was forced to cancel a drag story time due to homophobic and transphobic backlash online. An impromptu story time ended up happening outside of Nelson City Hall as part of a rally of 2SLGBTQIA+ supporters.
Several U.S. states, including Tennessee, have targeted drag shows. In Tennessee, the word "drag" does not appear in the bill, but instead it changes the definition of adult cabaret in Tennessee's law to mean "adult-oriented performances that are harmful to minors." It also states that "male or female impersonators" now fall under adult cabaret among topless dancers, go-go dancers, exotic dancers and strippers.
"Idaho, Montana, Arizona, Missouri, Kentucky, Oklahoma – you go on and on," Chandra Herbert said.
"It seems so ridiculous that anyone would have a problem with that but I've got to say, our neighbours just to the south of us seem to be having a great deal of problems with that and we're seeing it bleed across the border here."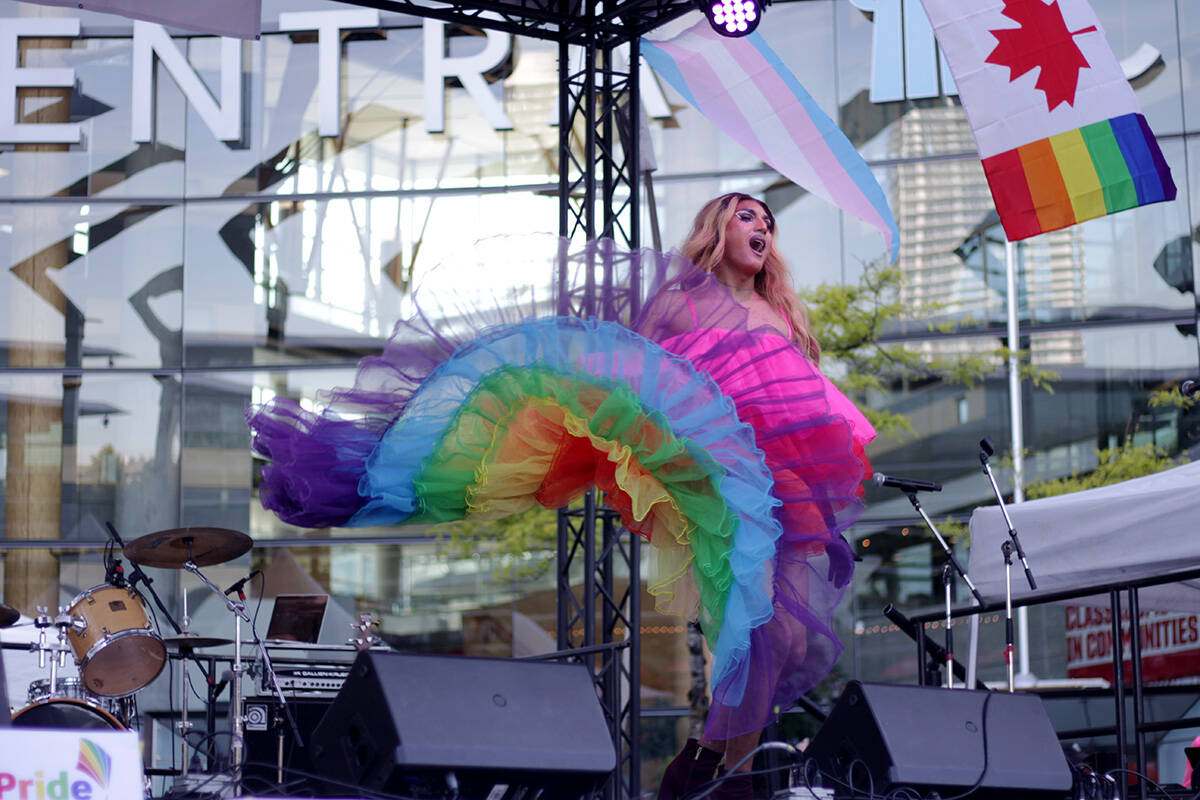 However, he said it's not the first time this province has seen activism for the drag community, pointing to ted northe, who died in 2014. He stood up in drag on on courthouse steps with a sign saying 'I am a human being.'"
"That's what it about. Being able to be so wonderfully human in our diversity, without other people stepping in to try and shame us for who we are, try and beat up and use violence to try and intimidate," Chandra Herbert said.
Chandra Herbert said the first time he dressed in drag was in Grade 12, which he called and accomplishment.
A motion allows for an MLA to express their view, and 10 other MLAs from both the NDP and Liberal parties spoke in support of Chandra Herbert's motion, including North Vancouver–Seymour MLA Susie Chant and Surrey-Panorama MLA Jinny Sims.
"Toxic social media might look like a lot of people are homophobic," Chandra Herbert said, "but when you go out to the broad public and outside the echo chamber of Twitter" it's maybe not quite as negative.
Chant said she found it remarkable that "in this day and age that this topic remains one that needs to be restated."
"Violence hate and intimidation should have no place in our current state but it has reared its ugly head once again in the most benign of places – community centres and libraries."
Surrey-Panorama MLA Jinny Sims recalled how just back in the 2000s, the Surrey school district was fighting to ban books featuring same-sex couples.
"I can remember in those days, wondering what could be more harmful to our society as a whole than to start banning books, especially banning books that were teaching about who we are."
– With files from Tyler Harper, The Associated Press
---
@laurenpcollins1
lauren.collins@blackpress.ca
Like us on Facebook and follow us on Twitter.